Best Free Bulk Email Sender On The Internet!
Super Email Sender is the best Free bulk email software to manage mailing lists and set up email marketing campaigns in a few clicks. Super Email Sender combines simplicity, performance, and power into one interface.
You create newsletters and manage lists directly on your desktop, and lunch your email marketing campaigns in one click. What makes it Perfect, is that it's 100% Free.
Features
1. Email marketing campaigns in minutes!
Super Email Sender Allows you to create an email marketing campaign in 1 click with its simple design and architecture.
Running an Email Marketing campaign doesn't need any Complex or web-based applications: you can run your campaigns easily on your local PC, keeping your information private and without worrying about any additional costs. It's easy, simple, and powerful.
2. Multi-Campaign Management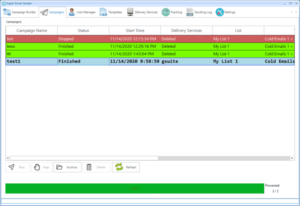 Now, Starting With Super Email Sender Version 4.0, You can manage and run multiple campaigns concurrently at the same time.
This feature will make things a lot easier and will allow you to manage your email marketing campaigns as if you are working with enterprise software, but with a few clicks!
3. Built-in SMTP Rotation Engine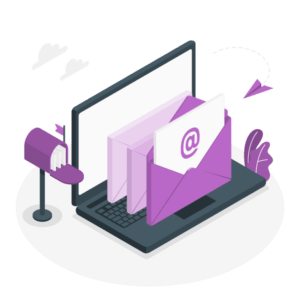 Super Email Sender Allows you to add multiple Email Delivery Services and run your email marketing campaigns through multiple services.
The SMTP rotation feature gives you the ability to send more emails using free emails like Gmail and Outlook, and helps warm up and protect your reputation while sending.
This operation is 100% automated, and you don't need to worry about any configurations. Enable Rotation, and see the magic!
Also, Super Email Sender Now Has Three Delivery Service types:
SMTP Server (Connect any SMTP Service)
Google Gsuite API (Send Up to 2000 Emails per day)
Postal SMTP API (No need for any port, use the API and Start)
4. Unlimited Emails, Lists, & Templates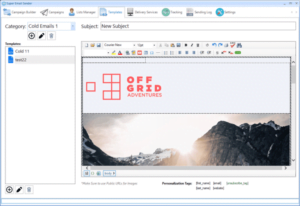 Super Email Sender Allows you to create an unlimited number of Email Lists and Import Your Subscribers with one click from TXT or CSV files.
Also, you can add unlimited Templates and design beautiful emails that convert with the built-in Email Template Editor.
Super Email Sender has a built-in Mail Merge functionality, so you can personalize your emails and run better email marketing campaigns.
Are You Ready to Download Super Email Marketing Campaign?
More:

 Super Email Validator Software Free Download
Conclusion
Still having some confusion? Or need any kind of help with website building? Then, please comment below. We'll be happy to help you.
We hope this article helped you know about "Super Email Sender Software". If you like this article, then please share it with your friends and colleagues.
Also, If you need any help related to website and SEO. Sabbirwdx Team is always ready. Check Out Our Team Service. Sabbirwdx Team Professionally Website Solution Providers And Search Engine Optimization Experts.
Thanks for visiting Sabbirwdx and reading this article! I highly appreciate it!
You may also like our article: